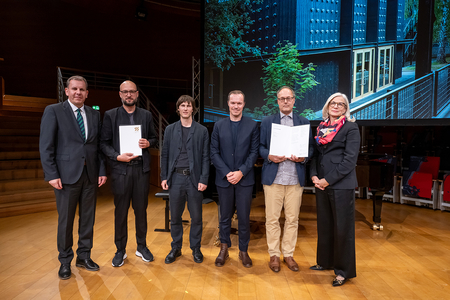 Award at the German Architecture Award 2023
An award for the German Architecture Prize 2023 (endowed with 4,000 €) was received on 28.09.23, among others, the exhibition hall of the Kunsthochschule Kassel. The exhibition hall was inaugurated in early 2022. The building is located in the courtyard of the North Building of the Kunsthochschule. It was designed by the Austrian firm Innauer Matt Architekten.
The State Prize is awarded every two years for outstanding achievements in building culture and is the most important award for architects in Germany. The announcement of the winners and the festive award ceremony took place on September 28, 2023 in Berlin.
The German Architecture Award honors exemplary buildings that demonstrate outstanding architectural and architectural-cultural quality and bear witness to an exemplary approach to construction and materials in new buildings or in the renovation and modernization of historic structures. They are committed to sustainable construction in ecological, economic and socio-cultural terms and make a positive contribution to the design of public spaces. On the one hand, the award-winning buildings should provide inspiration for future planning, and on the other hand, they should bring the importance of building culture and sustainable construction closer to the public.
The announcement of the 2023 award of the Federal Office for Building and Regional Planning can be found here.